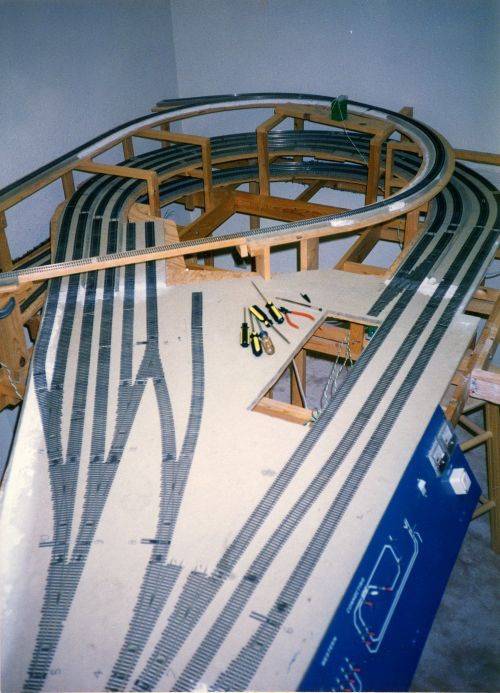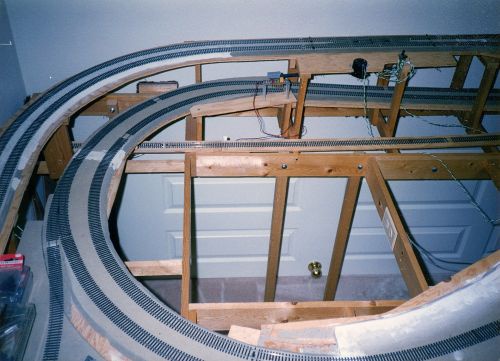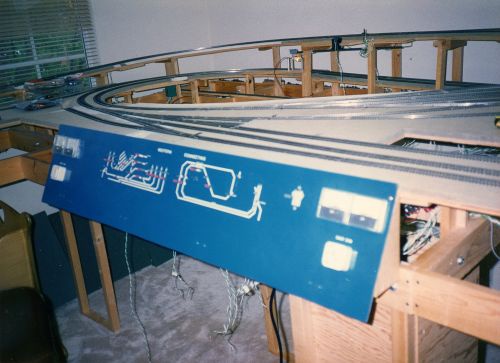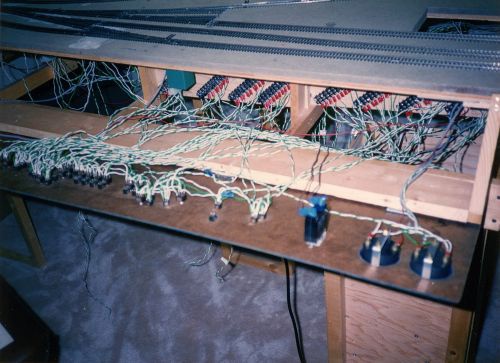 Pleasant Hill Layout

After moving to my second home, a townhouse in Pleasant Hill CA, I re-assembled the semi-modular layout from
San Jose in a spare room. This layout existed from 1989 until 1995, when I dismantled it for a move to Concord CA.
The plan was essentially the same as the San Jose layout, but with some changes to fit the new space and add more
industry spurs. This layout was fully operational, but never received scenery. Some of the benchwork lumber,
turnouts, Tortoise machines, and electrical hardware were salvaged for use in my Glen Frazer Free-mo module.

Below:
All track and wiring was completed,
except the locomotive service pits.

Below:
I built a decent control panel, including white-tape track diagrams that showed locations of power block gaps. Control
was via two DC throttles with plug-in walk-around hand-held controllers, each with a current and voltage meter. Center-Off
toggle switches selected which throttle controlled a block. On-On toggle switches controlled the Tortoise-powered turnouts.

Below Right:
The panel was hinged to access the wiring, which quickly added up for block control and powered turnouts.

Below:
This pop-up access had a service track and jacks for the
walk-around throttles.

Below:
The walk-around throttles can be seen
here on the intermodal ramp spur.

Below:
The cement plant spur was moved, and the "valley"
reconfigured to accomodate a pair of more spectacular bridges.

Below:
A pop-up access allowed cleaning
the loop tracks. Note the "remote" Tortoise
installation and the cast-plaster tunnel liner.