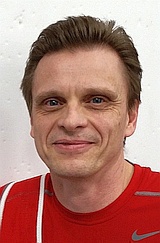 A little about me ...
I've lived with my wife and two (now grown) children in California's San Francisco Bay area for 35 years.
My career in electronics engineering includes 15+ years in the medical device industry, 13 years in the
automated test industry, and 4 years in the aerospace industry.

I earned a BSEE at the state university in Reno, Nevada after spending my youth in Las Vegas, Nevada
(it was a very different place back then ...). So I consider myself a native Nevadan, despite not having bee
born there (in case you're curious ... Montana - lived there only 3 months, so I don't think that counts).

My dad was a "cold warrior", spending most his career on the Nevada Test Site northwest of Las Vegas
(I did a summer internship there - certainly the strangest jobsite and commute I ever had). Dad loved to
read and build things with his hands - I definitely inherited those genes.

My mom was a part-time substitute teacher (I remember she was my teacher one day in grade school - awkward ...)
and worked in newspaper advertising for many years. She was the creative one - painting, photography, poetry.
Guess I got those genes too!