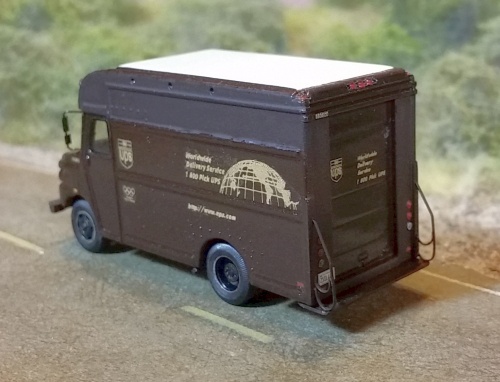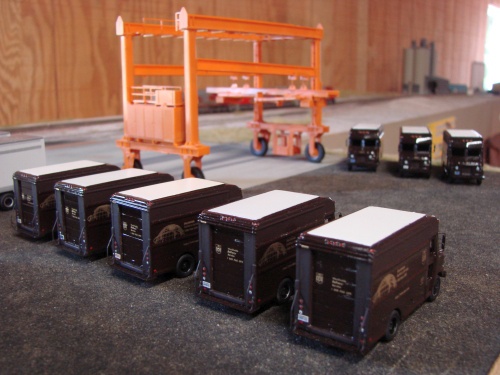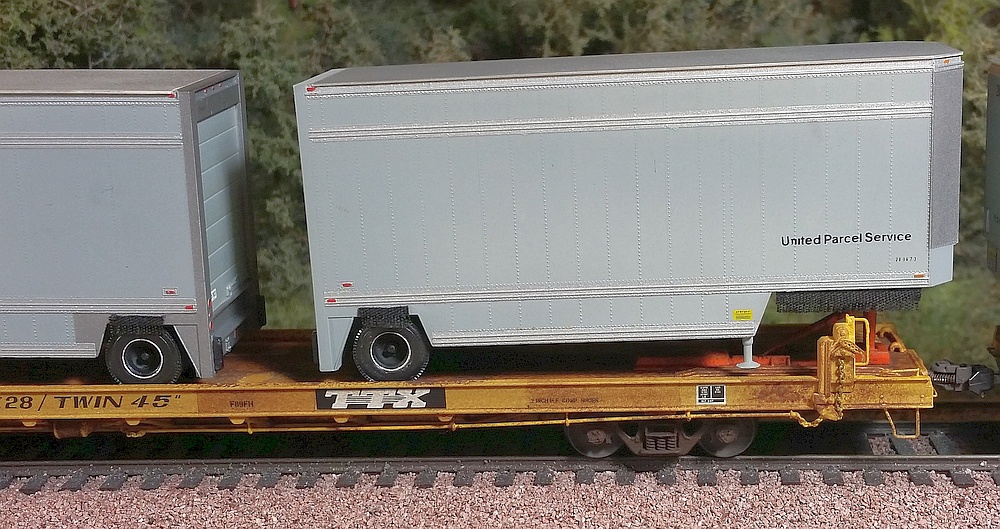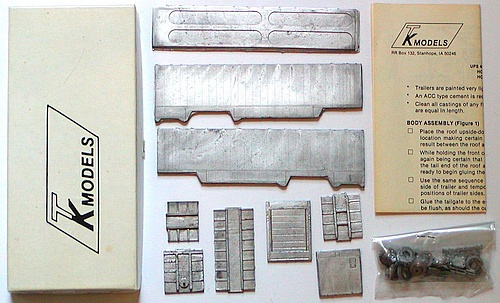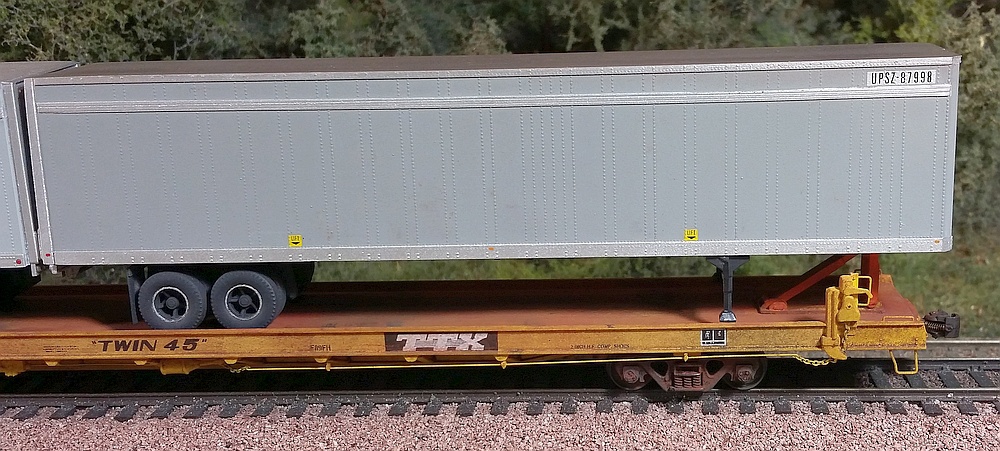 United Parcel Service Vehicles

Here is an assortment of UPS vehicle models I've built, including intermodal and delivery.
UPS was a big shipper on the Santa Fe - there is a UPS terminal called North Bay on
Santa Fe's Stockton Sub, not far from Glen Frazer. I have good memories of watching
hotshot Santa Fe intermodal trains like the 199 drop off cuts of UPS pig flats at North Bay.

I made 22 of these ubiquitous vans in a batch - four for myself and the rest for fellow model railroaders. These are based on the older
Walthers kit, which I upgraded with Plano Models etched metal mirrors and rear step rails. I painted them gloss brown and added "gold"
decals purchased from a custom decal maker (A-Line also has them - here). I added my own home-made decals for headlights and
license plates. Some panels were then painted with dull-cote per the prototype. Note the Olympic Rings logo, indicating UPS support
for the US Olympic teams. This logo differentiates my models from the recently-released finished Walthers model of a similar vehicle.

I built and decorated these drop-frame trailers and containers-on-chassis from the A-Line brand kits.
The wheel brushes on the drop-frames are made from tiny rectangles of a coarse black fabric with some strands removed.

I made several 40' drop-frame trailers from the A-Line kit (a similar model is now available from Athearn).
The Martrac trailer is an Athearn. Martrac was a refrigerated service for UPS.

Above:
The window "glass" and
partial cab interior are home-made.

I kitbashed a few 45' straight-frame trailers from Walthers stock, replacing the rear doors with an A-Line roll-up part. I also applied strip-styrene stiffener ribs to each side.

Left:
My one and only adventure into do-it-yourself molding
(late 80's or early 90's) involved a UPS 40' drop-frame trailer.
A friend had one of these TK Models metal kits. I used it as
the master to make an RTV mold, and then cast copies of
the parts using a 2-part resin. It took several tries before
getting acceptable parts without bubbles or blemishes.


Below:
I managed to get one reasonably acceptable model
out of the deal before deciding the process just wasn't worth the
effort given the number of failures involved. It's not perfect, but
when no other models like this were available at the time, this
was pretty cool. I added a lot of weight inside, so it's a good
choice for this very light-weight Santa Fe TOFC conversion flat.

Right:
Vans on a model of
North Bay ramp (built by a good
friend of mine, Jesus Pena).